The House of Miss Rose will be closing her doors December 30th, 2014.
Hair Donations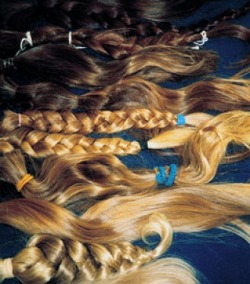 1. Hair must be at least 10 inches or 25.4 cm.
2. Hair must be clean and dry.
3. (a) Ponytail then braid hair and secure at
both ends.
(b) Cut above the elastic.
(c) Use as many ponytails/braids as
possible. Hair that is pulled into one
braid results in a LOSS of up to six
inches of hair
4. Include contact information for a Certificate of
Appreciation
---
---
Your contact information should include the following:

Your name as you would like it to appear on your Certificate of Appreciation.

A mailing address, with the postal code, that you would like us to send it to.

Include a history of the hair if it is not virgin.


Please send your ponytail(s) to:

The House of Miss Rose

20700 56th Avenue.

Langley, BC V3A 7R8

Include your email and join our Facebook page to find out the latest news!
---
---
Want to do a Fundraiser.... How about a PonyDrive?

If you would like to host a pony drive, call us (604.533.8874) and we will help you have a very successful event. A pony drive is where people donate their hair as a group or at an event and can be held in schools, birthday parties, and wherever else you'd like to host one. If you're interested in hosting one, give us a call!

---
---